TRUE 2-COMPONENT REVOLUTION!
UNLIMITED POTLIFE. ALWAYS READY. EASY TO USE.
UNIQUE 2K 
1-COMPARTMENT
TECHNOLOGY
WISE 2K™ features 2-component performance in an easy to use 1-compartment can. No mixing or activation required, the product is always ready to use with an unlimited potlife.
WISE 2K™  delivers excellent performance, great value and convenience to its users. Finally, an efficient and portable 2-component painting solution is here! From industrial maintenance to professional car refinish and all DIY projects Wise 2K™ products create a lasting, durable surface.
Product range includes epoxy-based PRIMERS, FILLERS and TOP COATS  and polyurethane-based CLEAR COATS.
*International patents pending
GENUINE 2K QUALITY & PERFORMANCE
Wise 2K™ has been tested using recognized industry standards. It is proven to deliver both in professional level performance and ease of application.
HOW DOES WISE 2K™ TECHNOLOGY WORK?
The unique solution of WISE 2K™ has both the deactivated hardener and 2K binder in the same chamber.  It requires no mixing or puncturing of the can, it is always ready to use.
When the product is sprayed, the hardener is activated instantly when it meets moisture in the air. The second reaction occures when the activated hardener and 2K binder cross link causing a genuine 2-component reaction. Since the reaction occurs during spraying WISE 2K™ can be used repeatedly until the can is finished. 
TRUE 2K PERFORMANCE
SUPERIOR ADHESION
CORROSION RESISTANCE
CHEMICAL AND FUEL RESISTANCE
SCRATCH & IMPACT RESISTANCE
COVERAGE & VALUE
SAVES TIME AND MONEY
USE ANYWHERE AND ANYTIME
ELIMINATES WASTED PRODUCT
GREAT  COVERAGE: 1.4m² (15 sqf)

ALWAYS READY & EASY
EASY APPLICATION
SMOOTH SPRAY FLOW
NO ACTIVATION OR MIXING
PROFESSIONAL PERFORMANCE
ALL SURFACES
METAL  CHROME
COPPER   ALUMINUM
GLASS FIBRE   MOST PLASTICS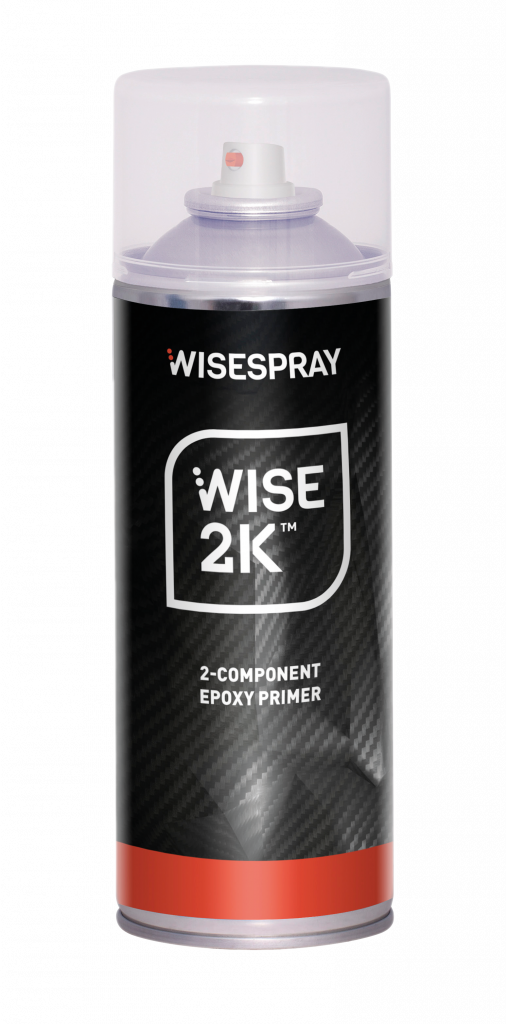 WISE 2K™ EPOXY PRIMER
Can be applied directly on all kinds of surfaces, with excellent bonding properties. Unlike a 1-component Primers, WISE 2K® Primer also bonds on galvanized steel and aluminium. The Primer forms a complete water and airtight film with excellent corrosion protection. Creates an adhesion bridge layer for putties or topcoats, which can be applied directly on the primer with or without sanding.
Volume: 400ml or 11.8 ounces
Potlife: 36 months
WISE 2K™ EPOXY FILLER PRIMER
Designed to provide anti-corrosion properties, high filling power, easy application and fast drying time. For maximum adhesion and corrosion resistance the use of WISE 2K® 2-component Primer is recommended. WISE 2K™ Filler Primer can be sanded prior to the application of Top Coats.
Volume: 400ml or 11.8 ounces
Potlife: 36 months
WISE 2K™ EPOXY TOPCOAT
Extremely durable top coat with excellent bonding properties on all kind of surfaces. It forms a protective, water and airtight layer with excellent chemical resistance. The high solid formula makes it possible to cover up to 3m2 on a primed surface.
Available in matte, satin and high-gloss finishes.
Available in multiple ready-made colors Sample colors and Prefill cans for custom color options – Wise 2K™ Tint Solution
Volume: 400ml or 11.8 ounces
Potlife: 36 months
WISE 2K™ POLYURETHANE CLEAR COAT
Forms a clear, fuel resistant, extremely durable coating with a chip and impact resistant film. It is easy to apply and immediately forms a deep and glossy surface without the risk of dripping. It can be applied on solvent-borne and water-borne painted surfaces. 
Available in matte, satin and high-gloss finishes.
Volume: 400ml or 11.8 ounces
Potlife: 36 months
WISE 2K™ PREFILL TINT BASE
A tint base for Wise Tint 2K custom colour system, used with Tinting Pastes.
The tint bases are available in matt, semi-gloss and high gloss. The tint base contains 2K binder, hardener, solvents, additives and propellant.
Volume: 400ml or 11.8 ounces
Potlife: 36 months. Tinted can potlife 3 months. 
WISE 2K™ TINTING PASTE
 A custom 2K Tinting Solution System with 15 2-component epoxy resin color pastes to create thousands of custom colors. Color formulas are easily retrievable online at www.2kmix.com.  Used with Wise 2K™ PREFILL TINT BASE.
Volume: 1 litre
Potlife: 12 months